Wildlife Rescue Center (WRC) in Kulon Progo Regency, Yogyakarta Special Region
---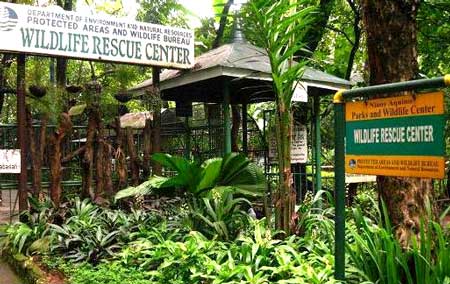 All tourists indeed want a memorable experience when spending a vacation. The most important consideration, in this case, is definitely the destination. In Kulon Progo Regency, for example, there is an interesting place called Wildlife Rescue Center or WRC. This non-government organization has become a new vacation spot and offers educational tour to visitors. The site takes care of or rehabilitates wild and rare animals. Those are confiscated animals, actually. The purpose is to reintroduce the wild nature to the animals. As for tourist activity, visitors are able to learn the importance of protected animals and watch them directly on the site.
The Nuance
WRC is located in Sendangsari Village and it belongs to Pengasih Sub-District. The accessibility is nice, as the location is by the roadside. What about the nuance? The number of visitors is moderate, but it becomes more crowded during weekends and holidays. Once arriving at the site, tourists may see a green fence and parking area right away. Also, there is a guard post. Visitors must report and talk to the guard first before exploring the area. A gorilla statue stands in front of the guard post! Don't forget to take photos of it, too.
Exploring Wildlife Rescue Center
Unlike zoos, Wildlife Rescue Center doesn't have a completed collection of animals. The prime purpose of the place is to rehabilitate rare and protected animals, after all. Thus, visitors should not expect lots of species there. The most attractive species is none other than Orang Utan. This exotic primate is considered rare and endangered, in fact. Thus, the management tries hard to keep away illegal hunting and commercial possession of this animal. After confiscating these from illegal owners, they train the animals and nurture them before releasing to the wild later.
As for tourists, they can take advantage of the visit to learn the importance of taking care of protected animals. During the exploration, they can also hear information regarding the history of how those animals got to the place. Some of the animals are sick, while others are healthy. The healthy ones are kept on the display for tourists to watch! It is also allowed to take photos there.
Aside from sightseeing, learning, and photography, visitors are allowed to watch the rehabilitation directly. The process has some steps to follow, after all. The management and keepers are friendly, so don't worry. It would be easy to get permission, therefore. One thing, WRC is not an official tourist site, so not all people are allowed to enter the place freely. All guests should talk to the guards first in order to enter the rescue center.
Nearby Attractions

Kaliserang Karst Tubing
Clereng Natural Spring
Gondangsari Kroco
How to Get There
Tourists' prime destination would be Yogyakarta City. If they come from Jakarta, it is recommended to take an airplane to reach the destination. A flight from Soekarno – Hatta International Airport to Adisucipto Airport may take around 1 hour and 10 minutes. After tourists arrive at Yogya, their next destination is Kulon Progo Regency and the best route to take is Yogyakarta – Wates Street. This trip may take around 54 minutes, as the distance is 36.7 km. From Kulon Progo, they must take Pengasih – Wates Street and head to WRC immediately. The distance is 3.3 km, so the trip would take only about 8 minutes.
Where to Stay

Wisma Kusuma Hotel
King's Hotel

Latest News
LABUHAN KERATON NGAYOGYAKARTA Labuhan Keraton or the Royal Offerings of Yogyakarta is usually performed on the 30th of Rajab, so it will probably be hold on Thursday, 27 April 2017, at 07.00 am at the "Pendhapa" (Javanese Mansion) of Kretek Subdistrict Office. The Ngayogyakarta Royal servants transfer the vessels of the offering-implement to the Bantul Government. Then the offering-implement is delivered to the "Pendhapa" of Parangkusumo, and given to the caretaker to be arranged in "ancak" (the vessel made of bamboo). After the prayer fort it in "cepuri" (a supporting…
---
https://www.youtube.com/watch?v=218GWVk1pL4 Ratu Boko Palace is located in Jl. Raya Piyungan, 3 km south of Prambanan Temple at Dawung and Sambirejo villages, Piyungan, or 19 km east of Jogjakarta. It opens daily 6 am – 5.30 pm and it entrance fee charged. Ratu Boko Palace is a huge complex built on 16 hectares as the residence of King Boko of the first Mataram dynasty. Local legend says that Ratu Boko liked to eat human flesh. Primarily in ruins, visitors must use their imaginations to fill in historical and structural gaps. Gold…
---
Ratu Boko Temple Settled on a hillside plateau, overlooking Prambanan temple complex and with a view to Mount Merapi behind Prambanan Temple complex, lie the remains of a once grand palace. The palace (kraton) is named Ratu Boko after a King Boko of local folklore, but the real owner of the palace is more likely to have been a king of a local dynasty. Ratu Boko temple is located on a plateau, about three kilometres south of Lara Jonggrang Prambanan temple complex in Yogyakarta Central Java, Indonesia. Grand stone gates,…
---
To support the need of recreational things in Yogyakarta, the accommodation is also increase. In fact, there are numbers of star hotels and non-star hotels that ready to serve their specialties to comfort your stay. Hence, this Hotels In Yogyakarta is made. This application is kind of reference to provide the information and news for tourists that want to stay in Yogyakarta. There are numbers of Hotels and its description, and it can be accessed from iPad, iPhone and Android.  
---