Kedondong Mosque in Kulon Progo Regency, Yogyakarta
---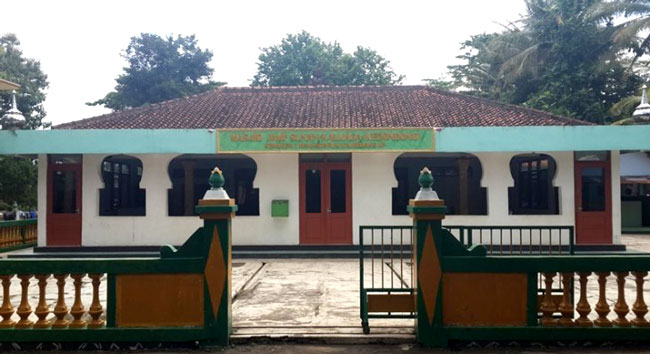 Surrounded by beautiful natural landscapes, Kulon Progo Regency has a great tourism potential. Not only it consists of majestic highlands and exotic beaches, the region also offers some historical and religious tourist sites! For example, there is Kedondong Mosque in Kalibawang Sub-District. This Indonesia historical mosque resides in Banjararum Village, actually. Even though it looks like regular mosques, Kedondong has an important history related to Sunan Kalijaga (a famous Islamic propagator). The locals even believe it as the oldest mosque in Kulon Progo! They also called it Sunan Kalijaga Mosque in the past, but the named changed to Kedondong as the time went by. According to the locals, it has been built even before the famous Demak Mosque in Central Java Province!
The Nuance
As mentioned before, Kedondong Mosque looks simple when it comes to architecture. It even looks like a regular vast house, which may appear boring to some people. In terms of size, the mosque is built on an area of 1024 meters per square. The good thing is the building applies Joglo architecture and emits a traditional nuance as well. It consists of 4 big pillars, but no porch. For the information, the mosque has undergone several renovations so the condition remains sturdy and neat. The last renovation was done in 1990, actually. Despite the numerous renovations, the mosque doesn't replace its pillars and "bedug" at all. No wonder, those objects have an important historical value!
Exploring Kedondong Mosque
The most common reason to visit Kedondong Mosque is to learn the history, without a doubt. As mentioned before, the mosque has a significant history related to Sunan Kalijaga during his mission in spreading Islam back then. It is said this person took a rest for a while at Tinalah River (which is located near to the location) during his journey. At the time, he and his apprentice decided to build a mosque on that area.
What is more? After learning the history of Kedondong Mosque, tourists should explore the building and watch some historical items including encis, umpak, mustoko, and bedug. Well, for further information regarding those objects, they can ask the local guide or keeper. Perhaps the most famous one is the bedug (which is said to be able to reverberate up to 3 km if someone beats it).
For visitors, they must pay attention to several things while exploring Kedondong Mosque. The most important one is to take care of the environment. Everyone is not allowed to litter and cause a disturbance in the location. They, at least, need to understand that the site is considered sacred and historical. Thus, no one is allowed to spoil it at all cost!
Nearby Attractions

Kleco Peak
Tinalah Bridge
Arus Progo Rafting
How to Get There
For those coming from Adisucipto International Airport, they need to spend about 46 minutes to get to Kedondong Mosque as the distance is 29.7 km. Their first destination is Kalibawang Sub-District. Next, they can simply head to Banjararum Village where the mosque resides. As for the faster trip, it is recommended to take Ring Road Utara and Kebon Agung Street.
Where to Stay

Ndalem Dasuriah
Gado-Gado BnB

Latest News
LABUHAN KERATON NGAYOGYAKARTA Labuhan Keraton or the Royal Offerings of Yogyakarta is usually performed on the 30th of Rajab, so it will probably be hold on Thursday, 27 April 2017, at 07.00 am at the "Pendhapa" (Javanese Mansion) of Kretek Subdistrict Office. The Ngayogyakarta Royal servants transfer the vessels of the offering-implement to the Bantul Government. Then the offering-implement is delivered to the "Pendhapa" of Parangkusumo, and given to the caretaker to be arranged in "ancak" (the vessel made of bamboo). After the prayer fort it in "cepuri" (a supporting…
---
https://www.youtube.com/watch?v=218GWVk1pL4 Ratu Boko Palace is located in Jl. Raya Piyungan, 3 km south of Prambanan Temple at Dawung and Sambirejo villages, Piyungan, or 19 km east of Jogjakarta. It opens daily 6 am – 5.30 pm and it entrance fee charged. Ratu Boko Palace is a huge complex built on 16 hectares as the residence of King Boko of the first Mataram dynasty. Local legend says that Ratu Boko liked to eat human flesh. Primarily in ruins, visitors must use their imaginations to fill in historical and structural gaps. Gold…
---
Ratu Boko Temple Settled on a hillside plateau, overlooking Prambanan temple complex and with a view to Mount Merapi behind Prambanan Temple complex, lie the remains of a once grand palace. The palace (kraton) is named Ratu Boko after a King Boko of local folklore, but the real owner of the palace is more likely to have been a king of a local dynasty. Ratu Boko temple is located on a plateau, about three kilometres south of Lara Jonggrang Prambanan temple complex in Yogyakarta Central Java, Indonesia. Grand stone gates,…
---
To support the need of recreational things in Yogyakarta, the accommodation is also increase. In fact, there are numbers of star hotels and non-star hotels that ready to serve their specialties to comfort your stay. Hence, this Hotels In Yogyakarta is made. This application is kind of reference to provide the information and news for tourists that want to stay in Yogyakarta. There are numbers of Hotels and its description, and it can be accessed from iPad, iPhone and Android.  
---