Sendangsono Cave in Kulon Progo Regency, Yogyakarta
---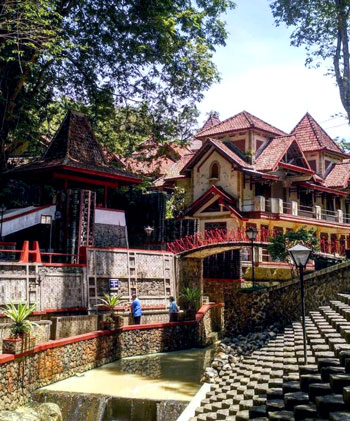 It is not surprising that Kulon Progo Regency has several vacation spots to conduct pilgrimage or religious tourism. One of them is located in Kalibawang Sub-District, which is called Sendangsono Cave. The exact location is in Banjaroyo Village and it has been visited regularly by the locals (especially the Catholics). Visitors usually come to this Indonesia site to perform worshipping and learn the history of it. Some tourists even come to the location in order to conduct photography and sightseeing! The good thing is the site is managed well by St. Maria Lourdes Parish, so the environment remains neat and clean.
The Nuance
When it comes to nuance, the site looks so shady and peaceful due to the presence of lush trees and plants that surround it. Once arriving at Sendangsono Cave, tourists can start exploring the site comfortably. It is because the management has built stairs and pavement for everyone to walk and get around easily. Even many facilities reside including toilets and rest areas. As for the most noticeable feature, it is definitely the Maria Statue (which was given by the Queen of Spain). Not to mention there is a sacred fountain located in the midst of the site, which is believed to cure many types of diseases.
Exploring Sendangsono Cave
Not only Sendangsono Cave is visited by nearby locals, but it also gets visitors from other regions especially in May and October. These people are Catholics and they want to conduct a praying ritual during special occasions. Despite the fact, the site opens for everyone regardless of the region and age. Visitors don't have to pray, after all. It is because they can do fun things like photography and exploration, as well.
It is true most people come to Sendangsono Cave for praying. However, some of them are also interested in taking the holy water for a better health. They believe the water helps them to get rid of troublesome diseases like diabetes, rheumatics, etc. What is more? The site offers a peaceful and comfortable atmosphere, which is suitable for relaxation and hermitage. Many people even believe that the Goddess Lantamsari lives in that area! No wonder, they often conduct hermitage to look for a blessing from her.
Another allure in Sendangsono Cave is none other than the history. Have no worries. Tourists can get the information from either the keeper or local guide. It is said Romo Van Lith came to Java Island and spread Catholics to the locals. At the time, his significant influence led to the construction of Sendangsono Cave (which is used mainly for praying). As the time went by, it also becomes a nice vacation spot to visit when spending a holiday in Kulon Progo as well!
Nearby Attractions

Banjarsari Village
Sidoharjo Waterfall
Watu Tekek
How to Get There
From Adisucipto International Airport, a trip to Sendangsono Cave may take about 1 hour and 6 minutes. It is because the distance is 38.4 km. This trip can be faster if tourists take Kebon Agung Street, actually. Once tourists arrive at Kalibawang Sub-District, they can directly head to Banjaroyo Village and conduct a short trekking to the site.
Where to Stay

Rimbono Homestay
Amanjiwo Resort
Gado-Gado BnB

Latest News
LABUHAN KERATON NGAYOGYAKARTA Labuhan Keraton or the Royal Offerings of Yogyakarta is usually performed on the 30th of Rajab, so it will probably be hold on Thursday, 27 April 2017, at 07.00 am at the "Pendhapa" (Javanese Mansion) of Kretek Subdistrict Office. The Ngayogyakarta Royal servants transfer the vessels of the offering-implement to the Bantul Government. Then the offering-implement is delivered to the "Pendhapa" of Parangkusumo, and given to the caretaker to be arranged in "ancak" (the vessel made of bamboo). After the prayer fort it in "cepuri" (a supporting…
---
https://www.youtube.com/watch?v=218GWVk1pL4 Ratu Boko Palace is located in Jl. Raya Piyungan, 3 km south of Prambanan Temple at Dawung and Sambirejo villages, Piyungan, or 19 km east of Jogjakarta. It opens daily 6 am – 5.30 pm and it entrance fee charged. Ratu Boko Palace is a huge complex built on 16 hectares as the residence of King Boko of the first Mataram dynasty. Local legend says that Ratu Boko liked to eat human flesh. Primarily in ruins, visitors must use their imaginations to fill in historical and structural gaps. Gold…
---
Ratu Boko Temple Settled on a hillside plateau, overlooking Prambanan temple complex and with a view to Mount Merapi behind Prambanan Temple complex, lie the remains of a once grand palace. The palace (kraton) is named Ratu Boko after a King Boko of local folklore, but the real owner of the palace is more likely to have been a king of a local dynasty. Ratu Boko temple is located on a plateau, about three kilometres south of Lara Jonggrang Prambanan temple complex in Yogyakarta Central Java, Indonesia. Grand stone gates,…
---
To support the need of recreational things in Yogyakarta, the accommodation is also increase. In fact, there are numbers of star hotels and non-star hotels that ready to serve their specialties to comfort your stay. Hence, this Hotels In Yogyakarta is made. This application is kind of reference to provide the information and news for tourists that want to stay in Yogyakarta. There are numbers of Hotels and its description, and it can be accessed from iPad, iPhone and Android.  
---