Gebleg Traditional Snack of Kulon Progo Regency, Yogyakarta
---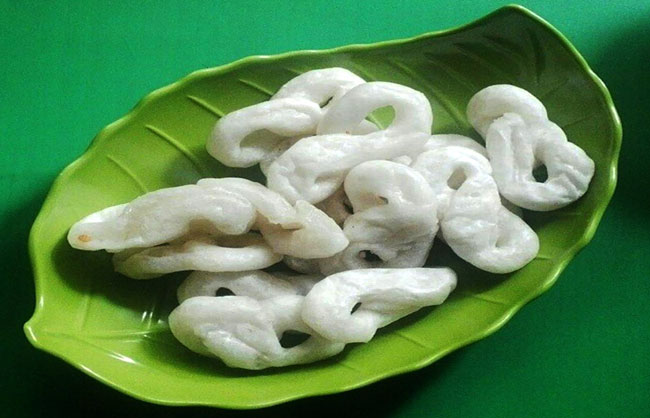 When visiting Kulon Progo Regency, tourists should not miss the opportunity to try some Indonesian local foods and snacks, especially Gebleg. Despite the simplicity, the snack tastes great and has a unique appearance. In fact, it becomes the signature food of the region! Usually, the locals eat it as a snack either in the morning or afternoon. As for tourists, it becomes a great souvenir that they can buy cheaply when visiting Kulon Progo later. The question is where they can get it, as not all sellers are reliable enough especially in terms of price. Well, here is further information about it.
The Best Place to Get Them
It is true tourists can ask the help from their local guide in getting Gebleg. However, this method costs more money than they may expect. As an alternative, they can simply head to the best area where they can buy the snack at a more affordable price. It is Jonggrangan Market located in Gendu Village. Once arriving at the market, tourists may find a simple eatery providing Gebleg and other traditional foods. Have no worries. The seller is quite friendly. Not to mention visitors can either eat Gebleg directly on the site or bring it back home.
More about Gebleg
In terms of appearance, Gebleg has white color and it comes with a chewy texture. The prime ingredient is tapioca flour, after all. What about the taste? The locals only use salt as the seasoning, so it tastes both savory and salty. Well, people can eat it directly or fry it first for a more crispy texture. Either way, it tastes great! As for the side dish, the best one is Tempe Besengek (which is made of soybeans).
Aside from eating Gebleg when visiting Kulon Progo Regency, tourists also have the chance to watch and learn the making process directly. Have no worries. The locals are friendly enough to teach outsiders how to make such unique snack. After making it, tourists are allowed to bring the raw Gebleg back home and fry it later. It would be lucky if they can get such training freely! If not, they don't have to spend much money to learn how to make the snack at the locals' house.
For those who don't have time to watch and learn how to make Gebleg, they can simply buy the snacks at nearby market or eateries. Have no worries. The price is quite cheap, so everyone can buy it in a bulk. It is worth the money, after all, as tourists won't find such snack in other regions!
Nearby Attractions

Glagah Indah Beach
Waduk Sermo
Pedut Waterfall
Kalilingseng Cave
Sumur Gondangsari Kroco
Binangun Park
Sendang Clereng Fountain
How to Get There
In order to get Gebleg, the best place to visit is definitely Jonggrangan Market at Gendu Village. From Adisucipto International Airport, tourists may spend about 56 minutes as the distance is 36.7 km. It can even be faster if they take Yogyakarta – Wates Street and use the right transportation service.
Where to Stay

Wisma Kusuma Hotel
King's Hotel
Rajaklana Resort

Latest News
LABUHAN KERATON NGAYOGYAKARTA Labuhan Keraton or the Royal Offerings of Yogyakarta is usually performed on the 30th of Rajab, so it will probably be hold on Thursday, 27 April 2017, at 07.00 am at the "Pendhapa" (Javanese Mansion) of Kretek Subdistrict Office. The Ngayogyakarta Royal servants transfer the vessels of the offering-implement to the Bantul Government. Then the offering-implement is delivered to the "Pendhapa" of Parangkusumo, and given to the caretaker to be arranged in "ancak" (the vessel made of bamboo). After the prayer fort it in "cepuri" (a supporting…
---
https://www.youtube.com/watch?v=218GWVk1pL4 Ratu Boko Palace is located in Jl. Raya Piyungan, 3 km south of Prambanan Temple at Dawung and Sambirejo villages, Piyungan, or 19 km east of Jogjakarta. It opens daily 6 am – 5.30 pm and it entrance fee charged. Ratu Boko Palace is a huge complex built on 16 hectares as the residence of King Boko of the first Mataram dynasty. Local legend says that Ratu Boko liked to eat human flesh. Primarily in ruins, visitors must use their imaginations to fill in historical and structural gaps. Gold…
---
Ratu Boko Temple Settled on a hillside plateau, overlooking Prambanan temple complex and with a view to Mount Merapi behind Prambanan Temple complex, lie the remains of a once grand palace. The palace (kraton) is named Ratu Boko after a King Boko of local folklore, but the real owner of the palace is more likely to have been a king of a local dynasty. Ratu Boko temple is located on a plateau, about three kilometres south of Lara Jonggrang Prambanan temple complex in Yogyakarta Central Java, Indonesia. Grand stone gates,…
---
To support the need of recreational things in Yogyakarta, the accommodation is also increase. In fact, there are numbers of star hotels and non-star hotels that ready to serve their specialties to comfort your stay. Hence, this Hotels In Yogyakarta is made. This application is kind of reference to provide the information and news for tourists that want to stay in Yogyakarta. There are numbers of Hotels and its description, and it can be accessed from iPad, iPhone and Android.  
---