Kedung Luweng in Kulon Progo Regency, Yogyakarta
---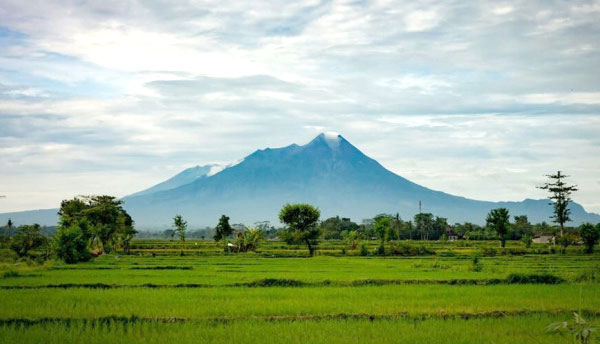 Kulon Progo Regency has lots of natural attractions including highlands and beaches. That means tourists won't run out of option when it comes to spending a memorable vacation there. Here is a reference. The name is Kedung Luweng and it is located in Temon Sub-District. To be exact, this majestic natural puddle is located in Kulur Village and resides in a valley between two andesite hills. It is true everyone needs to pass through a challenging landscape in order to get to the site, but it gives a satisfying sensation to nature lovers and adventurers. Plus, the panorama looks stunning which is suitable for photography and sightseeing.
The Nuance
Kedung Luweng offers milky water with a refreshing sensation. No wonder, almost all visitors are likely to get in and play water right away once they arrive at the site. It also features a river with a weak current, surrounded by various sizes of stones. As mentioned before, the site is located between two andesite cliffs (which is worth a photo shoot). On top of that, many bushes and green plants grow beautifully near to the location. The fact is tourists may find more than one puddles, as there is also Kedung Bing located near to it. Do not forget a comfortable fishing spot resides near to it as well! As for the facilities, the management has provided gazebos, camping ground, and toilets.
Exploring Kedung Luweng
The most common thing to do in Kedung Luweng is none other than trekking. The challenging landscape satisfies those who love adventure, for sure. For beginners, though, it is recommended to wear comfortable footwear in order to avoid discomfort while trekking. After all, the surface of the trekking route can be slipper sometimes especially after rain. Despite the difficulty, the panorama looks great including the presence of giant breccia scattered by Kokap River. Even the management is building new gazebos and selfies spots in that area!
Aside from enjoying trekking, visitors come to Kedung Luweng in order to play water and swim in the crystal clear river. In this case, they should have prepared extra clothes beforehand. After all, they would get wet later. The main puddle has a similar shape to a stove, actually. Once playing water in that area, tourists can also visit another puddle namely Kedung Bimo. However, this one is considered deeper, so everyone should be careful when swimming.
Another fun thing that tourists can do in Kedung Luweng is fishing. One thing, everyone should have prepared the fishing rod and other required equipment beforehand. They won't find any service that provides those items on the site, after all. As for the fishes, the most dominant one is eels or Anguilla Marmorata.
Nearby Attractions

Sendang Pengilon
Menoreh Cliff
Suru Sukorini Mountain
Curug Sembir
How to Get There
The distance between Kedung Luweng and Adisucipto International Airport is 52 km. That means the trip may take around 1 hour and 16 minutes to get to the location. If tourists take Magelang – Purworejo Street, though, they can get there faster without a doubt. Once arriving at Temon Sub-District, the last thing to do is to visit Kulur Village where the natural puddle is located.
Where to Stay

King's Hotel
Kusuma Hotel

Latest News
LABUHAN KERATON NGAYOGYAKARTA Labuhan Keraton or the Royal Offerings of Yogyakarta is usually performed on the 30th of Rajab, so it will probably be hold on Thursday, 27 April 2017, at 07.00 am at the "Pendhapa" (Javanese Mansion) of Kretek Subdistrict Office. The Ngayogyakarta Royal servants transfer the vessels of the offering-implement to the Bantul Government. Then the offering-implement is delivered to the "Pendhapa" of Parangkusumo, and given to the caretaker to be arranged in "ancak" (the vessel made of bamboo). After the prayer fort it in "cepuri" (a supporting…
---
https://www.youtube.com/watch?v=218GWVk1pL4 Ratu Boko Palace is located in Jl. Raya Piyungan, 3 km south of Prambanan Temple at Dawung and Sambirejo villages, Piyungan, or 19 km east of Jogjakarta. It opens daily 6 am – 5.30 pm and it entrance fee charged. Ratu Boko Palace is a huge complex built on 16 hectares as the residence of King Boko of the first Mataram dynasty. Local legend says that Ratu Boko liked to eat human flesh. Primarily in ruins, visitors must use their imaginations to fill in historical and structural gaps. Gold…
---
Ratu Boko Temple Settled on a hillside plateau, overlooking Prambanan temple complex and with a view to Mount Merapi behind Prambanan Temple complex, lie the remains of a once grand palace. The palace (kraton) is named Ratu Boko after a King Boko of local folklore, but the real owner of the palace is more likely to have been a king of a local dynasty. Ratu Boko temple is located on a plateau, about three kilometres south of Lara Jonggrang Prambanan temple complex in Yogyakarta Central Java, Indonesia. Grand stone gates,…
---
To support the need of recreational things in Yogyakarta, the accommodation is also increase. In fact, there are numbers of star hotels and non-star hotels that ready to serve their specialties to comfort your stay. Hence, this Hotels In Yogyakarta is made. This application is kind of reference to provide the information and news for tourists that want to stay in Yogyakarta. There are numbers of Hotels and its description, and it can be accessed from iPad, iPhone and Android.  
---