Kedung Ingas Waterfall in Kulon Progo Regency, Yogyakarta
---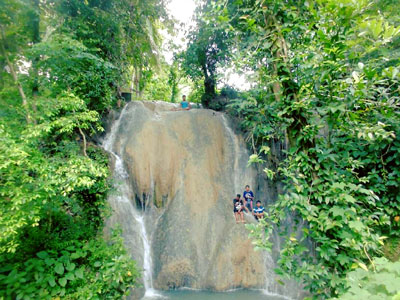 It is common sense that Kulon Progo Regency has lots of natural attractions for tourists to visit during their spare time especially holidays. Among others, the most famous ones are waterfalls! As for the reference, there is Kedung Ingas Waterfall in Sidorejo Village. In terms of region, it belongs to Lendah Sub-District. The locals often come to the site in order to enjoy its exotic beauty and serene atmosphere, actually. These explain why visitors are likely to spend relaxation and photography once arriving at the site. Some of them also love to conduct an exploration and family recreation during weekends.
The Nuance
The only challenge is the location, which is a little bit secluded (which is in the midst of a small forest). In fact, only nearby villagers are aware of the location. Thus, tourists should take advantage of the help of a local guide when heading to the spot. Once arriving at the site, the beautiful waterfall welcomes them right away! It also comes with a refreshing natural pond located under the waterfall. Do not forget the site is surrounded by lush plants and trees, so the atmosphere feels so soothing and cool. In terms of size, the waterfall has a moderate height and comes with a slow water discharge. It becomes stronger during the rainy season, though.
Exploring Kedung Ingas Waterfall
In terms of appearance, Kedung Ingas is indeed different from Kedung Pedut Waterfall. Despite the difference, it emits a unique charm. Plus, it comes with several facilities including a toilet where tourists can change clothes after bathing at the nearby natural pond. After all, everyone is likely to get in the pond once they arrive at the site. It is because the water is quite clear and so refreshing! It even feels more refreshing in the morning!
Aside from bathing and playing water, people also come to Kedung Ingas Waterfall to enjoy the beauty of nature. It can be as simple as sightseeing or a more interesting activity like photography. Not only the site offers the beautiful waterfall, but it also comes with other natural objects like shady trees and clean river. The good thing is the waterfall is located near to Progo River, which is quite accessible for everyone. Thus, tourists should not miss the chance to visit the river later.
The next recommended thing to do in Kedung Ingas Waterfall is fishing. In this case, tourists should carry a fishing rod and other required items including the bait. Another consideration is the location. They won't get many fishes at the pond, though. Instead, it is recommended to visit Progo River and fish there. The result would be more satisfying on that spot. Also, the ambiance becomes merrier if they conduct fishing with either families or villagers!
Nearby Attractions

Kyai Panggung Tomb
Progo Dam
How to Get There
From Adisucipto International Airport, it takes about 1 hour and 5 minutes to get to Kedung Ingas Waterfall as the distance is 38.9 km. Have no worries. This trip becomes faster if tourists take Srandakan Street and use only the best vehicle to get to the site. What they need to do is to head to Lendah Sub-District and reach Sidorejo Village where the waterfall resides.
Where to Stay

Paddy d'Sawah Guesthouse
King's Hotel
Kusuma Hotel

Latest News
LABUHAN KERATON NGAYOGYAKARTA Labuhan Keraton or the Royal Offerings of Yogyakarta is usually performed on the 30th of Rajab, so it will probably be hold on Thursday, 27 April 2017, at 07.00 am at the "Pendhapa" (Javanese Mansion) of Kretek Subdistrict Office. The Ngayogyakarta Royal servants transfer the vessels of the offering-implement to the Bantul Government. Then the offering-implement is delivered to the "Pendhapa" of Parangkusumo, and given to the caretaker to be arranged in "ancak" (the vessel made of bamboo). After the prayer fort it in "cepuri" (a supporting…
---
https://www.youtube.com/watch?v=218GWVk1pL4 Ratu Boko Palace is located in Jl. Raya Piyungan, 3 km south of Prambanan Temple at Dawung and Sambirejo villages, Piyungan, or 19 km east of Jogjakarta. It opens daily 6 am – 5.30 pm and it entrance fee charged. Ratu Boko Palace is a huge complex built on 16 hectares as the residence of King Boko of the first Mataram dynasty. Local legend says that Ratu Boko liked to eat human flesh. Primarily in ruins, visitors must use their imaginations to fill in historical and structural gaps. Gold…
---
Ratu Boko Temple Settled on a hillside plateau, overlooking Prambanan temple complex and with a view to Mount Merapi behind Prambanan Temple complex, lie the remains of a once grand palace. The palace (kraton) is named Ratu Boko after a King Boko of local folklore, but the real owner of the palace is more likely to have been a king of a local dynasty. Ratu Boko temple is located on a plateau, about three kilometres south of Lara Jonggrang Prambanan temple complex in Yogyakarta Central Java, Indonesia. Grand stone gates,…
---
To support the need of recreational things in Yogyakarta, the accommodation is also increase. In fact, there are numbers of star hotels and non-star hotels that ready to serve their specialties to comfort your stay. Hence, this Hotels In Yogyakarta is made. This application is kind of reference to provide the information and news for tourists that want to stay in Yogyakarta. There are numbers of Hotels and its description, and it can be accessed from iPad, iPhone and Android.  
---